The Ebony Tower fairy house is complete! Laborious layers of stones, glued in place over many months, have finally taken shape into the form of a spiral tower, a sinister home for a dark fae creature.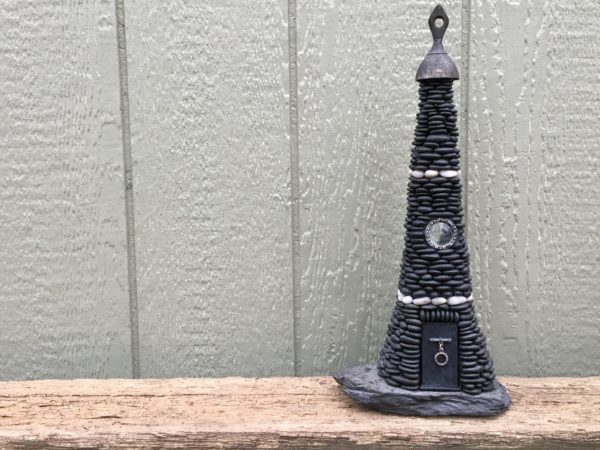 Play the video below to see how it grew.
How did I make it? First of all, assemble all your supplies, especially your patience. This project takes a LONG time to complete. You'll need a base stone, wall stone, a door and door hardware, a few windows, a top piece, E-6000 glue, and some black grout. I found my base stone in the back yard and I purchased the black pebbles from a dollar store in the floral aisle.
Decide how large your base should be then start gluing down stones in a circular pattern, leaving a space for the door and windows. Continue building your tower, setting each row of stones slightly inside the previous row, in order to taper the tower. Back fill with black grout every few inches or so. This helps stabilize your tower. When you get to the top, add your bell or roof. Add your doors and windows and it's done!