I finally completed my batch of fairy mushroom houses, yay! They are photographed and ready to head over to the Bellefonte Art Gallery. Hope they find good homes…
To make these fairy houses, I raided our recycling bin for plastic containers: creamer bottles, yogurt cups, marshmallow fluff jars, smoothie bottles, etc. I cleaned them thoroughly and painted them in bright, happy, spring colors. I made the doors from paper clay and outlined them with miniature paper flowers. This was a fun project and could probably be completed with children, should you choose to try it.
If you need inspiration, please check out my Pinterest board:
Follow Trilby Works's board Fairy Houses in the Garden on Pinterest.
My father grew up during the 1930's Great Depression and the subsequent World War II years when it was common practice to collect trash metal for conversion to weaponry, ships, tanks, and planes. His family also saved newspapers, bottles and caps, jars, cans, cooking fats, fabric, rubber, aluminum foil, pots and pans, and even old toys. Some of this recycling spirit and thriftiness rubbed off on me! Today I save metal and plastic lids from bottles and jars, plastic containers, old wooden toy parts, interesting labels and papers, old tools, ribbon and string scraps, vintage books and many other items.
Lately I've been putting those plastic containers to good use by using the pieces to assemble my mushroom fairy houses, as in the photo below.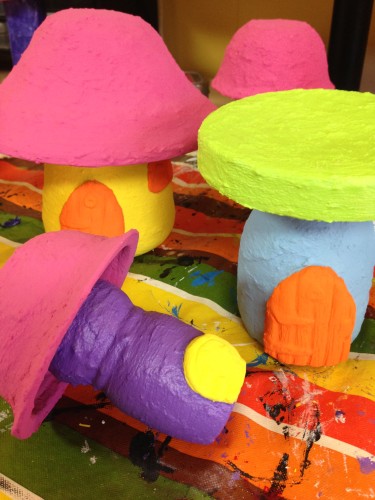 I glue the tops and bottoms together and then cover the surfaces with either decoupaged colored tissue papers or textured stucco paint. Doors and windows are made from molded paper clay and decorations are from random bits and bobs in my craft stash.
I love the idea of converting trash into art! Here are some projects made from household trash.
If you want to do this, here's some inspiration from my Pinterest board.
Follow Trilby Works's board Upcycle, Recycle: Plastic Jars and Containers on Pinterest.