I'm a sucker for supplies. I have more supplies in my studio than I will ever use. And yet I continue to collect more. Because I need them. Really. I do.
Last spring I scored this batch of really cool vintage wooden game pieces.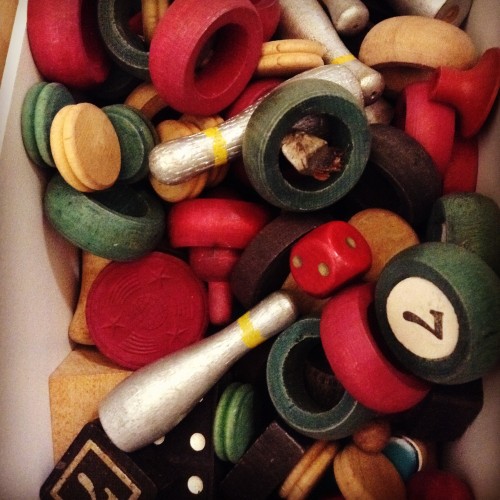 They only cost $5! Yay me!
One year later, they are still sitting in my drawer, waiting to be used. And I will be using them, I can assure you. No, I don't have a plan. I would make one, but I'm too busy looking for more goodies to add to my stash.
The picture above is of my wooden pieces drawer. All my junk is carefully organized so I can find it. All the drawers are labeled, of course! I may be an art supply hoarder, but I'm an orderly one. Just look at all those wonderful pieces, just waiting to be assembled into something awesome!
Where to Find Vintage Wooden Game Pieces to Use in Assemblage Art
How To Use Wooden Game Pieces in Your Art
You can do lots of things with these little wooden bobs and bits. Below are a few pictures of my work.
Here is some inspiration from my Pinterest board.
Follow Trilby Works's board Upcycle, Recycle: Wooden Game Pieces on Pinterest.
Save
Save
Save