Apothecary bottles have historically been used to store medicinal mixtures and herbs. Today's jars are functional and decorative, and come in a wide variety of materials, colors, and textures.
The Apothecary
The apothecary was a medical professional who operated a shop where he formulated, prescribed, and dispensed medicine. He also provided medical treatment, offered advice, trained apprentices, and sometimes performed surgery and midwifery.
Apothecary Bottles
These cylindrical-shaped bottles were used to contain and transport medicine, herbs, powders, and dry goods. Typically sold in sets of four or more, they were usually colored clear but can also be found in opaque white, transparent blue, and some greens. Those made in the U.S. date from 1790 to 1920 and range in size from 4″ to 12″ high. Stoppers were mostly made from glass.
They are sometimes referred to as potion bottles, sample vials, or medicinal bottles.
Craft Projects with Apothecary Bottles
Use them in shadowboxes, in altered art, assemblage, holiday decorations, and more.
Youtube has bunches of tutorials for using small bottles in craft projects. Here are a few of my favorites:
There are many things you can find to fill up a potion bottle with! Here are a few of them:
– Glitter
– Colored Sand
– Essential Oils
– Tiny Beads
Need more ideas? Check out my Pinterest board for tutorials, ideas, and inspiration!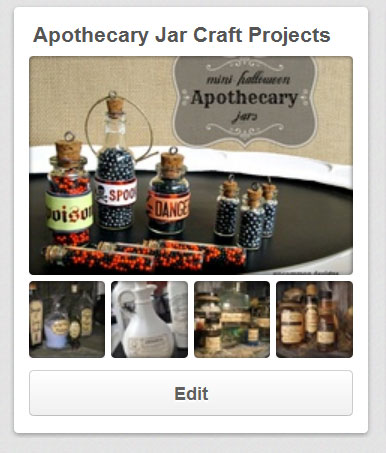 Art Prompts
Use these words and phrases to inspire your creativity.
Wiccan
Halloween
Harry Potter potions
Occult
Spooky
Fairy
Please leave a comment below if you have any additions to this list!
How I have used miniature apothecary bottles
I used three bottles for my Steampunk Santos Doll project. I simply tied the bottles with string and dangled them from my doll's hand.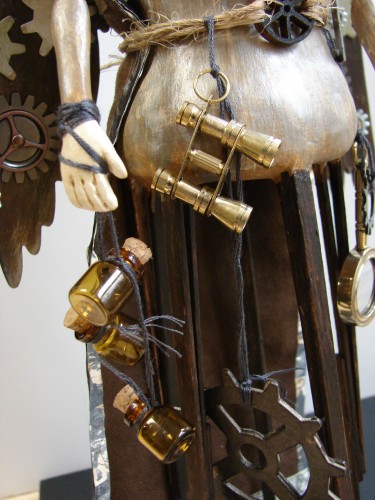 Where To Buy Mini Amber Glass Potion Bottles
Here, of course! I sell them on my website here at Trilby Works, and also on my Etsy site.
Sources
For more than you will ever want to know about medicinal bottles, please look at the Historic Glass Bottle Identification & Information Website at http://www.sha.org/bottle/index.htm.