I recently finished this fun wall hanging for my front door. Everyone loves cute little owls and these are darling! This whole project cost less than five dollars.
Here's how I made it. First, gather your materials. I got all this stuff from the craft store Michael's, except the branch and the pine cones, which my daughter collected from the woods. Everything was on sale or clearance and I had a coupon, so the cost wasn't too high. I ended up not using the rolls of fabric trim in the photo below.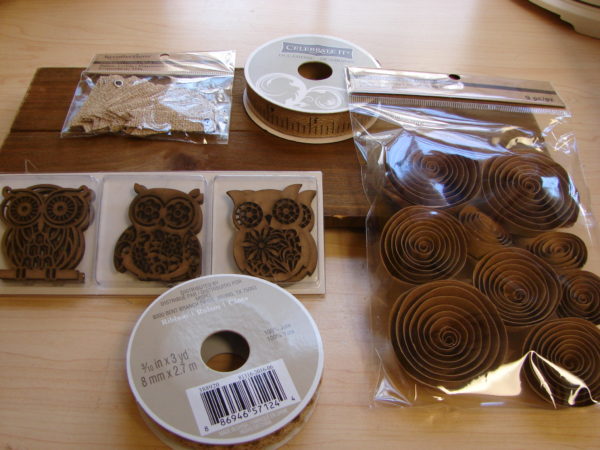 Cut your branch to fit your wood plaque. Lay out your design and glue everything down. I used my favorite glue, E-6000, which you can buy at Target, Home Depot, Michael's, and elsewhere. Any type of clear-drying, heavy-duty glue should work. White craft glue would work also, but doesn't have the holding power of the others mentioned.
I had enough materials to make three of these. My mom saw the first one and wanted it, so I made two more.
The lettering is from Tim Holtz. If you can't find this, or something similar, you can print out your own letters and mount them on cardboard. Or adhere the paper letters directly to the wood.
You can arrange your branch, owls, pinecones, and flowers any way you like, but do keep the principles of good design and composition in mind.
Now go make one!