In my childhood home, I often looked at two paintings that hung on the wall in our family room. They were similar in size and style, painted in oil on canvas, with gold frames. One was a seascape and the other a landscape.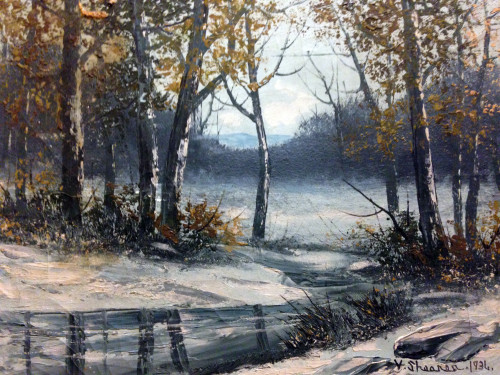 Recently, I wanted to learn more about the paintings and here is what I found out.
The artist was Victor Shearer, a landscape and seascape painter in traditional style who reportedly created many similar paintings "selling them for a few dollars apiece on the streets of Reading."
Victor was born in 1872, the son of artist Christopher High Shearer (1840-1946) and his wife Sarah. and lived primarily in Reading, Pennsylvania. Before pursuing painting in the early 1900's, he worked as a basket maker. Victor died at age 79 in 1951 and is buried in Alsace Lutheran Cemetery.
His initial work was similar to his father's, realistic and traditional, but he later developed his own style.
As a child, I much preferred the seascape to the landscape. Something about the waves and the boats, I suppose. It also had a sense of danger about it. Would the sailboat crash into the rocks? It seemed likely. As an adult, I still prefer the seascape, but now I can appreciate the composition, the heavy mass of rocks at the bottom right, opposed to the airy mass of sea and sky at upper left. The waves leaping into the rocks and spiraling back around counter clockwise, leading the eye through the painting again. The solitary sailboats strike a vertical counterpoint to the horizontal weight of the sea.
Source:
Peter Hastings Falk, Editor, Who Was Who in American Art