Grisaille is a French term (pronounced gree-zeye) for painting executed entirely in monochromatic color, usually in shades of gray (gris in French), although many grisailles in fact include a slightly wider color range with inclusion most often of browns and creams. A grisaille may be executed as underpainting for an oil painting; for its own sake; or as a preparatory design for a sculptor or engraver.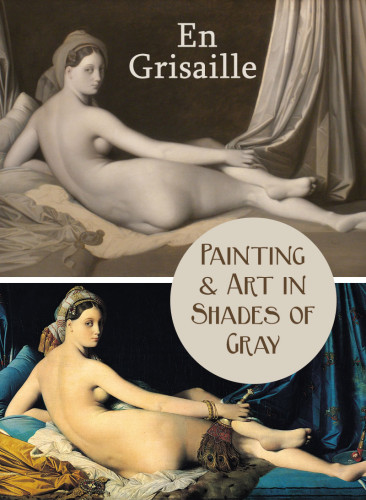 Grisaille As Underpainting
Grisaille as a preliminary underpainting for an oil painting can be seen in this Odalisque in Grisaille (ca. 1824–34) by Jean Auguste Dominique Ingres (French, 1780–1867) along with assistance from his students. It's a beautiful rendering in shades of gray of a previous painting (La Grande Odalisque) done in full color. Unfinished, the work was painted in oil on canvas and would have been overpainted with numerous layers of color glaze.
The Grande Odalisque of 1814 (Musée du Louvre, Paris), also by Ingres, is an example of a finished work using grisaille underpainting to control tone and warmth of hue.
When pigments were scarce and expensive, underpainting in gray permitted artists to achieve a textural ground that reflects light through the many layers of paint and glaze while minimizing the use of colored paint. The end result showed great luminosity, one of the traits of the great masters.
Grisaille As A Finished Work
Examples of grisaille as finished artwork abound in the Renaissance, where painters take the technique to its ultimate result, achieving previously unknown depth and realism, indeed almost a three-dimensional quality. Flemish painter Hugo van der Goes provides us an example with the frontispiece to his Portinari Altarpiece, completed in the 1470's. This work was commissioned by the Portinari family to grace the church of San Egidio in Florence.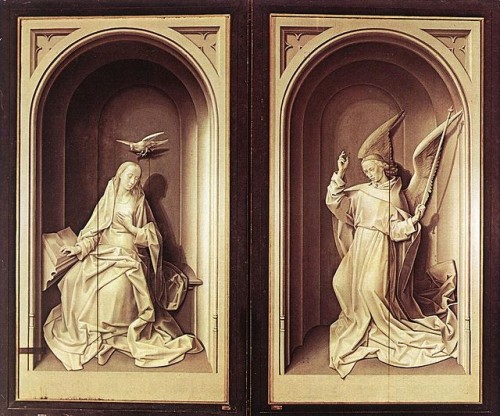 The frontispiece depicts the Annunciation, the announcement by the angel Gabriel to Mary that she is to bear the Christ child. When opened, the doors reveal further scenes from the lives of Joseph, Mary, and Christ on three panels, known as a triptych. The doors are remarkable for their realistic look of a marble sculptural relief.
Grisaille as a Preparatory Design
Grisaille drawings were often created by artists as a guide, study, or model for a painting, tapestry, sculpture, fresco, or stained glass window. Some, especially those used for fresco, were known as cartoons, from the Dutch word "karton" or the Italian "cartone" meaning strong, heavy paper or pasteboard, they were full-sized sketches in monochrome that served as guides for the executing artist.
Grisaille Today
Some artists who paint in the classical style of oil painting still use this technique, yet we also see the influence of a monochromatic palette in the broader world of art and craft today.
For myself, I love the paired down, simple color range of grays and other neutrals in art and craft. In this Etsy treasury, monochromatic grays in shadows and lights make for a pleasing, calming compilation:
I also have a Pinterest page for neutrals, grays, and shadows: