This greeting card is for the birds! Well, chicks, that is. Chicks with attitude. School chicks with attitude. School chicks with attitude who just got a rap on their fluffy little tail feathers for using fowl language.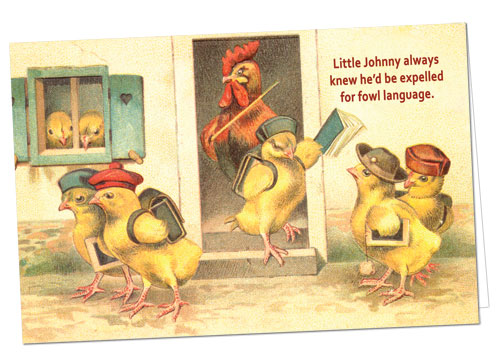 I am especially fond of chickens and I love old postcards and other ephemera. But I like giving them a little twist to make them funny (or punny) and that's what I've done here. A fluffy, cute chick leaves school and tosses his book away while the grumpy headmaster looks on and menaces a switch. The copy reads, "Little Johnny always knew he'd be expelled for fowl language."
This greeting card uses an old 1908 German postcard from which I removed the words "Happy Easter" and added our my amusing text. It measures 5 1/2″ x 4 1/4″ and is printed on bright white matte heavyweight paper. This is a great card to send to a teacher or a friend who appreciates puns or really likes chickens. Buy yours today.
I also offer this design as a mint tin and as a refrigerator magnet.