Orange is my happy color. It radiates warmth and happiness and combines the physical energy and stimulation of red with the cheerfulness of yellow. I have touches of orange throughout my home, in the form of furnishings like throws, vases, framed art, flower pots, curtains, and candles. Although I was tempted, I refrained from painting entire walls orange, instead using it as an accent color. I find the color orange to be immensely cheerful and uplifting.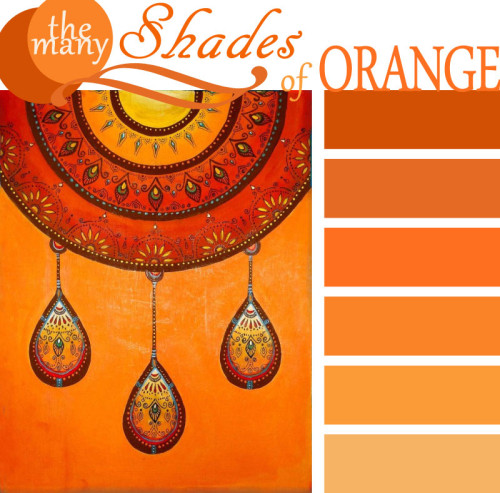 I decorated my spare bedroom with orange. The walls are painted an unassuming beige, but the curtains, bedspreads, are blankets are orange. The floor is hardwood with a natural finish and takes on an orange tone, especially when the afternoon sun streams in through the west-facing window. The spare bedroom is where we host foster children for respite care so I was delighted to learn that the color orange offers emotional strength in difficult times, helps us bounce back from disappointments and despair, and assists us to recover from grief. Hopefully we can provide some small amount of healing to our young guests, although they are with us only for a short time.
Monsters are the secondary theme for our spare bedroom makeover. What color? Orange, of course! I chose orange colored furry monster friends for the beds and an assortment of monster creatures in the form of wall decals. Meet them below:
The wall decals were purchased online from Amazon, the chunky monster at the left is from Target, and the faux furry guy on the right is one that I made a few years ago. I hope that the stuffie monsters will help our foster children scare away the monsters in their own heads.
The Meaning of Orange
Orange is associated with a number of positive aspects, including the following:
happiness • fun • joy • enjoyment • optimism • determination • stimulation • enthusiasm • invigoration • encouragement • rejuvenation • heat • sunshine • health • creativity • success • freedom • expression • strength • endurance
Objects That are Naturally Colored Orange
carrots • pumpkins • sweet potatoes • cantelope • mango • curry powder • paprika • saffron • poppies • marigolds • poppies • daylilies • fall leaves • canaries • tigers • foxes • butterflies • fish • koi • goldfish
The Color Orange in Art
The color orange was used in early art in ancient Egypt, the Roman Empire, and in China on tomb paintings and frescoes from pigments made from the minerals realgar and orpiment. It appeared in Medieval art and Renaissance art.
In the early 1800's, a synthetic pigment, chrome orange, was invented from the mineral crocoite or lead chromate. Orange became popular with the Pre-Raphaelites in Britain later in the century. One of my favorite paintings is that of Flaming June by Lord Leighton. See it below, along with a gallery of other striking paintings using orange in large part.
Using Orange in Your Art
Orange has very high visibility, so you can use it to catch attention and highlight the most important elements of your design.
Orange Inspiration
Lose yourself in my Pinterest board, "Orange You Glad for the Color Orange?" for great orange color inspiration!